DESCRIPTION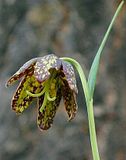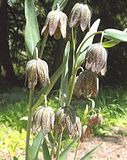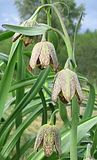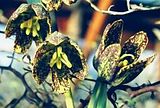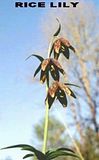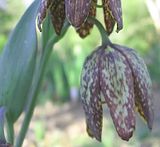 Fritillaria lanceolata, Fritillaria affinis
This is also called by various common names; Rice Lily, Chocolate lily, Rice-root, Checker-lily, Mission Bells.
A PNW native that blooms April-May with nodding 1 inch bells, subtly mottled purple-brown and yellow-green on stems up to 18 inches tall. The narrow leaves are in whorls. Native from British Columbia and Idaho to California. Wet winter, drier summer. Produces "rice-grain" bulblets, hence the common names, Rice Root and Rice Lily. This bulb naturally occurs in grass meadows where it's unusual beauty is hidden, it thrives in sun or part shade and needs NO summer water, although it doesn't mind getting watered. It goes dormant in summer and produces many offsets (rice) from the mother bulb. Plant 1-2 inches deep and let it naturalize.
GERMINATION: Sow in well drained mix, cover 1/8 inch deep, sow outdoors in fall-spring, seed may take 1 year to germinate, keep moist during cool weather, dry off in heat. bulblets grow slowly and go dormant in summer. Most bulbs dislike high soil temperatures and moisture at the same time. Bloom sized bulbs take many years from seed.
Seller accepts PayPal payments
Payment Details: PLEASE WAIT FOR INVOICE IF BUYING MORE THAN ONE ITEM, DISCOUNTS FOR COMBINED SHIPPING ARE USUALLY $1.00 TAKEN OFF FOR EACH ADDITIONAL ITEM PURCHASED.