DESCRIPTION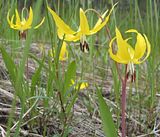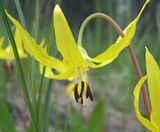 Yellow Glacier Lily
Erythronium grandiflorum Pursh
Other names: dogtooth violet, avalanche lily, fawn lily, snow lily, trout lily
Distribution
Moist, shaded to open sites, sagebrush slopes to montane
forest, sometimes to near treeline, in w. and s.c. parts of
MT. Also from s. B.C., WA and OR to WY and CO.
HARDY TO AT LEAST ZONE 5
Height: 6-14 in.
Conditions: Sun - Partial Shade, moist well-drained soil
Hardiness Zone: 3-9
GERMINATION INSTRUCTIONS:
SEED REQUIRES 4 WEEKS OF COLD, MOIST STRATIFICATION, SOW OUT DOORS IN FALL-WINTER OR IN THE REFRIGERATOR FOR 4 WEEKS, SOW DIRECTLY IN PLACE OR IN DEEP POTS OR FLATS, DO NOT LET SEEDLINGS DRY OUT EVEN WHEN DORMANT, EXPECT BLOOM SIZE PLANTS IN 3 YEARS. This species does not form offsets readily and the only practical way to propagate it is by seed.