Daylily Auction - Flower Garden Auction
Welcome
This listing is closed.
Dodecatheon pulchellum, PRETTY SHOOTING STAR, 20 SEEDS
Listing # 189075
DESCRIPTION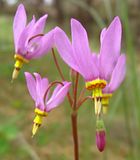 Dodecatheon pulchellum, commonly known as pretty shooting star, few-flowered shooting star, dark throat shooting star and prairie shooting star, is a perennial herb with single, leafless flower stems, growing from very short erect root stocks with no bulblets. It grows to a height of 5 to 40 centimeters.

This plant flowers in early spring. Summer Dormant and should be kept rather dry during the summer.
GERMINATION INSTRUCTIONS:
Best sown in fall to mimic the natural conditions is grows in. Sow on surface, barely cover.
Seller accepts PayPal payments

Sold Out.
This item has been viewed
times.